CPI Security celebrated its employees during Customer Service Week with prizes, gifts, games, and more.
Companies across the world and in varying industries celebrate Customer Service Week during the first week of October every year. It is a nationally and internationally recognized week highlighting the importance of customer service and the people who serve and support customers daily.  
Some companies offer simple cake and coffee breaks, while others recognize employee contributions with week-long extravaganzas. CPI Security spends months preparing for Customer Service Week to show its employees how much their work and dedication to keeping the community safe is appreciated.
"In the 30 years CPI Security has been in the business of protecting life and property, customers have always shared that our people are what sets us apart from other companies. "I couldn't agree with them more. We have wonderful people working here who continue to amaze me with their compassion and dedication to keeping this community safe. We try to show them every day that we appreciate their commitment to CPI Security, but Customer Service Week is when we go above and beyond to show our gratitude."

CEO and Founder of CPI Security, Ken Gill
CPI Monday
CPI Security literally rolled out the red carpet to start Customer Service Week. At corporate headquarters in Charlotte, employees walked into a grand entrance Monday morning complete with balloons, a red carpet, and a wall filled with employee recognition and shoutouts.
The theme of this year's Customer Service Week is Power of Service. Monday afternoon, each CPI Security employee received a Powerade and PowerBar wrapped in a Power of Service label, including an inspirational quote from Mr. Gill. Monday's festivities included friendly competitions like the Price is Right, Minute to Win It games, and an appreciation raffle.
Military Tuesday
On Tuesday, employees geared up in camouflage for Military Day. Continuing CPI Security's commitment to service, employees volunteered with Claire's Army, a nonprofit that helps children battling cancer in Charlotte. They assembled Claire Packages, totes filled with daily necessities, that Claire's Army delivers to children in the hospital.
Billing Supervisor Janita Barrett has worked at CPI Security for 20 years. She started volunteering for Claire's Army during Customer Service Week last year.
"Just the look on the family's face when they receive it [makes it worth it]," Barrett said. "Because when you don't think you're going to get any help, and you get help—it makes your heart warm, it makes you feel good."

CPI Security Billing Supervisor, Janita Barret
In less than a year of becoming partners, CPI Security has donated nearly $12,000 to Claire's Army in employee contributions, corporate matches, and sponsorships. In addition to financial donations, several CPI Security employees volunteered their time and services to the Claire's Army Gala.
"It's the definition of what we seek out and what we love in working with corporations. So, kudos to you guys, the leadership, and how you have engaged with Claire's Army," Executive Director of Claire's Army Emily Ratliff said.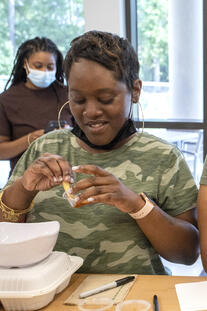 Tuesday afternoon, CPI Security employees were in the hot seat! While testing their company knowledge with trivia questions, employees also put their taste buds to the test in the Hot Ones Challenge.
Central Station Operator Andrea Riley came out on top by answering CPI Security questions correctly and tasting all 10 of the Heatonist hot sauces!
"I've got this thing for spicy stuff, even since I was a baby, Riley said. "So, the sauces were quite tasty, but number 8 was just painful. My mouth was on fire!"
Twin Wednesday
People were seeing double when they came to work on Wednesday. Employees coordinated outfits with co-workers; some even matched their entire department for Twin Day!
There was no need to buy an afternoon pick-me-up on Wednesday, as CEO and Founder Ken Gill stopped by each department to hand out King of Pops popsicles. Employees who do not work at Charlotte headquarters received gift cards to Chick-Fil-A in lieu of popsicles.
Breast Cancer Awareness Thursday
CPI Security planned Thursday's festivities with health and wellness in mind. Being October is Breast Cancer Awareness Month, employees wore pink to honor survivors, thrivers, and those who lost their lives to the disease. CPI Security also provided employees the opportunity to get a free mammogram screening, flu shot, and a massage.
Customer Support Advisor Izzy Caballero makes sure to get in line for a massage every Customer Service Week.
"It was great. I almost caught myself drooling," Caballero said.
Game Day Friday
On the final day of Customer Service Week, employees sported jerseys for Game Day Friday. The Olympic High School band performed at CPI Security headquarters. All those in attendance entered a raffle to win an autographed jersey from Carolina Panthers running back Christian McCaffrey!
Meanwhile, employees at CPI Security branches put their cooking skills to the test with a chili cook-off.
"My favorite thing about Customer Service Week is that everyone has a good time and rallies together. You can feel the team-like atmosphere," Customer Support Lead Justin Jones said.
To all CPI Security employees who provide excellent customer service on behalf of the company, thank you. We hope you enjoyed the celebrations and felt the appreciation and gratitude we have for your hard work. Happy Customer Service Week!