A vacation home can be a worthwhile investment for both your real estate portfolio and your own physical and mental health. It's a valuable asset that typically appreciates year over year. It can bring in extra rental income, and it provides a respite for you to relax, spend time with family and friends, and take a break from the pressures of your day-to-day life.   
Given that it's a second home, you won't be there 24/7 to make sure it's well protected. Vacation home security matters, and it's very important to secure your second home and protect your investment. Whether your vacation home is just a few hours away or all the way across the country, there are steps you can take to make sure it's safe and secure at all times. Below, we've compiled our best vacation home security tips that you need to know to secure your home away from home. 
Invest in a home security system.

 

Install a smart doorbell.

 

Secure all doors and windows.

 

Make sure the house looks lived in and tended to.

 

Use a smart lock or lock box for spare keys.

 

Get to know your neighbors.

 

Install sensors to detect other issues. 

 
How to Secure Your Second Home
Securing your vacation home is critical, as you likely will be away from it often, leaving it empty for significant periods of time. Investing in a vacation home security system is the most critical step to take, as these security systems are designed to detect a lengthy list of issues that could occur with your second home. Read on to learn more about choosing the best security system for a second home, as well as some other helpful tips for vacation home security.  
Invest in a home security system
A vacation home security camera system is an important investment for any vacation home or second home. These systems can detect any number of issues with your home, from intrusions and burglaries to fires and floods. Consider installing a whole-home system with indoor and outdoor cameras, motion sensors, smoke and carbon monoxide detectors, smart home control, 24/7 monitoring, and more. You can use this system to ensure your home is protected around the clock, plus you'll enjoy being able to check on your home whenever you want through the cameras and smart home features. 
To learn more about how CPI Security can protect your second home through a fully-integrated smart home security system, call (833) 623-1293 to speak to one of our vacation home security experts. 
Install a smart doorbell
Smart doorbells are a great addition to a vacation home security system. These doorbells can help you monitor who is coming and going and let you communicate with visitors, both expected and unexpected. Regardless of your location at your vacation home or your primary home, you'll be notified of any visitors and be able to see and speak to them. The person at your door doesn't even have to know you aren't there since you can communicate with them through the doorbell. Whether you're checking to see if a package was delivered or welcoming a guest, you'll enjoy the comfort that comes with knowing who is coming and going from your second home.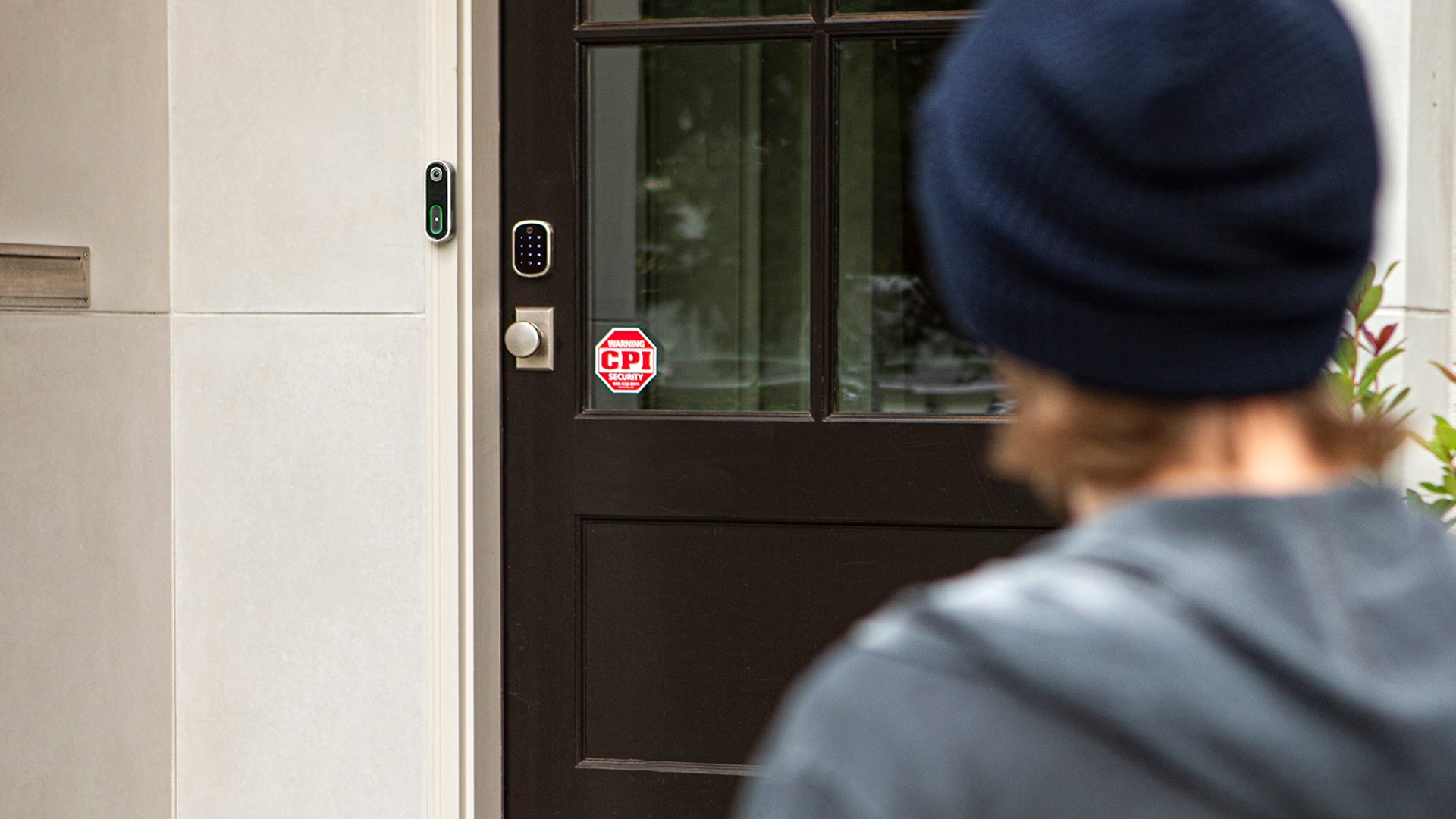 Secure doors and windows
Make sure you secure all doors, windows and entry points into your vacation home. Begin by walking around the outside of your house, taking note of entry points and which ones seem especially susceptible to vulnerabilities, such as those on the first floor or those hidden by landscaping or other obstructions. Then, get to work securing these entry points. Add deadbolts to exterior doors and padlocks to any sheds or exterior closets. Make sure each window has functioning locks, then consider adding window sensors that detect broken glass. Remove and lock away any ladders or other equipment that could be used to gain entry through second story windows or doors to balconies. If landscaping covers up windows or doors, cut it back so that it doesn't provide cover for intruders trying to gain entry.  
Make sure your vacation home looks lived in and tended to
You may not always be at your second home, but to keep it secure it should look occupied at all times. This is where knowing how to maintain a vacation home becomes especially important. If you aren't able to tend to the lawn and weed the landscaping often, consider hiring a landscaping company to manage it for you. Handle any needed repairs quickly, and make sure the outside looks maintained and well-cared for. Install lights on timers, and consider keeping curtains or blinds open, though you'll want to move valuables out of sight. Avoid sharing information about whether you're at your primary home or your vacation home on social media. 
If you want to ensure that your home is occupied more often, and set up an additional stream of income, consider renting out your second home to vacationers. 
Use a smart lock or lock box for spare keys
You may think you have a clever, hidden spot to stash a spare key to your vacation home, but unfortunately, experienced burglars can often find these keys fairly quickly. Rather than hiding a spare key, use a lock box to keep spare keys locked away, and provide the code only to those who need it. If you don't want to worry about making sure a key is returned to a lock box, install a smart lock with a code you can enter to gain entry. Many smart locks allow you to assign multiple codes, so you can give each person their own code, and some even allow you to disable codes after a certain period of time.  
Get to know your neighbors
It may be harder to connect with your neighbors when you aren't living somewhere full-time, but that doesn't make it any less important. Good, well-connected neighbors are key to stopping and preventing crime and ensuring everyone's home is looked after. Knowing those who live around you is a key aspect of vacation home security. Find a good neighbor that you trust to keep an eye on your home, let you know if they spot anything unusual or suspicious, and pick up any mail or packages that get delivered while you're at your primary residence.  
Install sensors that detect issues other than burglary
Vacation home security goes beyond just burglary and theft prevention. When you're away from your second home for extended periods of time, you need to keep tabs on everything happening there and know that it's safe and secure at all times. This is why a vacation home security system needs to include sensors that detect more than just intrusion. You'll also need to know right away if your home is affected by a fire, carbon monoxide, flooding or water leaks, and more. A customized, connected smart home security system, like those installed and monitored by CPI Security, includes sensors that detect all these things. Additionally, we are able to integrate smart home products such as thermostats, garage door openers, water shut-off valves, smart plugs and more to give you total access to and control over your vacation home, even from afar.  
For more information about protecting your second home, get in touch with the vacation home security experts at CPI Security by calling (833) 623-1293 or filling out a contact form on our site.